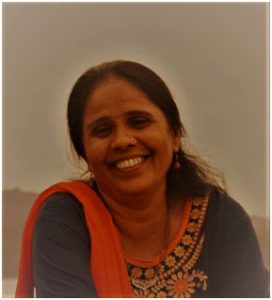 Director
Smt. Jasuben R. Kotwal
When it comes to preparing for the competitive examinations for public services, the most important tool one has to have is good, authentic & reliable books. When it is about preparing
for the national level examinations, there is a good number of books in English language that are readily available and are trustworthy as well but when it is about preparing for the state level examinations, there is great dearth of
faithful literature in Gujarati language for preparing General Studies & Optional subjects. It was with the intention of filling this vacuum that SAMVIDHAAN Publications was founded in the year 2015. Face of competitive exams' material
in Gujarat has to change in these times of fierce competition and SAMVIDHAAN Publications feels gratified in becoming pioneer in the process. SAMVIDHAAN Publications is committed to provide the best quality material for competitive exams.
So far its sphere has been limited to Gujarati language only, but in the times to come it has vision to expand the horizons and provide the material in English language too.
Our upcoming Creation :
a comprehensive guide to Science & Technology for GPSC Class 1/2 & DySO/Dy Mamlatdar exams
Our Creations so far :
FOURTH EDITION

OUT OF STOCK

The first book that was published in the year 2015 under the aegis of SAMVIDHAAN Publications was "Bharat nu Bandharan – Ek Rashtra ni Samhita" (The Constitution of India – A Nation's Code) on the day father of the
Constitution of India, Dr. Bhimrao Ambedkarji, was born i.e. 14th The book gives lucid narration of the Constitution of India in interactive language.

AVAILABLE

The next book published in the series was one titled "Jaher Vahivat"(Public Administration) in the year 2016. The book is meant for all those aspirants who have Public Administration as their optional subject & also
for those who find Public Administration as a subject in their General Studies' question paper in the examinations like GPSC Class 1 & 2 Mains, Commercial Tax Officer etc.

NOT AVAILABLE

Out of stock

AVAILABLE

OUT OF STOCK

An innovative measure was undertaken by SAMVIDHAAN publications when it published the chart of the Constitution of India in Gujarati language. All the articles & schedules of the Indian Constitution are put in a
single chart in a very brief manner. This chart is meant to decorate the walls of rooms of aspirants who want to feel Constitution every now & then.

AVAILABLE

One more chart created was on Indian Penal Code. This chart was specifically meant for the aspirants who are preparing for PSI/ASI/Constable Examinations.

ત્રણ પુસ્તકો સાથે

ભારતનું બંધારણ

જાહેર વહીવટ

ભારતીય અર્થવ્યવસ્થા

NOT AVAILABLE

MRP : ₹ 390 + ₹ 180 + ₹ 180 = ₹ 750

Online offer price : ₹ 450/-

બે પુસ્તકો સાથે

ભારતનું બંધારણ

જાહેર વહીવટ

NOT AVAILABLE

MRP : ₹ 390 + ₹ 180 = ₹ 570

Online offer price : ₹ 360/-

બે પુસ્તકો સાથે

ભારતનું બંધારણ

ભારતીય અર્થવ્યવસ્થા

NOT AVAILABLE

MRP : ₹ 390 + ₹ 180 = ₹ 570

Online offer price : ₹ 360/-

ભારતનું બંધારણ + બંધારણનો ચાર્ટ

ભારતનું બંધારણ

બંધારણનો ચાર્ટ

NOT AVAILABLE

MRP : ₹ 390 + ₹ 50 = ₹ 440

Online offer price : ₹ 320/-

ભારતનું બંધારણ + IPCનો ચાર્ટ

ભારતનું બંધારણ

IPCનો ચાર્ટ

NOT AVAILABLE

MRP : ₹ 390 + ₹ 50 = ₹ 440

Online offer price : ₹ 320/-

ભારતનું બંધારણ+2 ચાર્ટ્સ(બંધારણ અને IPC)

ભારતનું બંધારણ

બંધારણનો ચાર્ટ

IPCનો ચાર્ટ

NOT AVAILABLE

MRP : ₹ 390 + ₹ 50 + ₹ 50 = ₹ 490

Online offer price : ₹ 360/-